Bring Me the Head of Alfredo Garcia
(1974)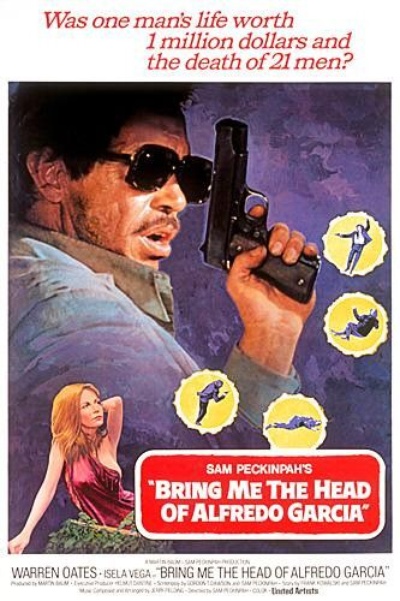 | | |
| --- | --- |
| Director: | Sam Peckinpah |
| Certificate: | BBFC 18 |
| Length: | |
| Format: | 35mm |
| Language: | English |
| Country: | |
Simply one of the best thrillers of all times. Visceral, doomed, deeply romantic: CULT.
"Extraordinary, a true and heartfelt work by a great director" - Roger Ebert
Why?
The only film claimed by Sam Peckinpah himself to have been released as he had intended.
Like most of Peckinpah's films, this is a story of filth, violence, greed, animalism, deceit, underhanded treachery and, inbetween all that, some very warped principles. There is a complex plot with many twists to this film, a love affair with a prostitution, Mexican henchmen, grave-robbing, Kris Kristofferson in a cameo as a cold-blooded bandit, not to mention a heart-warming developing friendship with a severed head.
Although it wasn't well received upon its release, it has garnered strong support since, while still continuing to polarise both critics and viewers. This is a darkly humourous take on the 'road movie' and 'buddy film' genres which gradually descends into the depths of psychosis and absurdity.
The Plot
A powerful Mexican industrialist learns that has daughter has become pregnant and been abandoned by one of his top men, Alfredo Garcia, prompting him to send an army of henchmen after the disloyal employee. Meanwhile, Bennie (Warren Oates), knows something the others don't and tries to capitalise on this for some easy money. But things soon get out of hand and quite messy…
Reviews
We'll be honest - this film, which we think is incredible, is not to everybody's taste - here is what is written on wikipedia:
"On its release in 1974, Bring Me the Head of Alfredo García was universally disapproved by viewers and critics, and failed at the box office. However, the film has since found a contemporary cult. (…) Some film critics (including Michael Medved) argue that Bring Me the Head of Alfredo García is one of the worst films ever made, while others (among them Roger Ebert and Slant Magazine) consider it a masterpiece."
Some extracts of good reviews here:
When it was released in 1974, "I gave it four stars and called it ''some kind of bizarre masterpiece.'' Now I approach it again after 27 years, and find it extraordinary, a true and heartfelt work by a great director who endured despite, or perhaps because of, the demons that haunted him." - Roger Ebert - Really interesting full review that you can read here
"A down and dirty movie, full of gutter poetry" – The Observer
"For something so bleak, so purposely revolting and unsentimental, there are reservoirs of profound poetry in Alfredo Garcia, the only film that Peckinpah ever considered completely his own." – Slant Magazine
"Few filmmakers have had the nerve to make a film as wantonly repugnant as Bring Me the Head of Alfredo Garcia. Even fewer have made such nastiness this bizarrely spellbinding." – Slant Magazine
A sum up of the bad reviews here:
"The film was reviled when it was released. The reviews went beyond hatred into horror. It was grotesque, sadistic, irrational, obscene and incompetent, wrote Joy Gould Boyum in the Wall Street Journal. It was a catastrophe, said Michael Sragow in New York magazine. ''Turgid melodrama at its worst,'' said Variety. Martin Baum, the producer, recalled a sneak preview with only 10 people left in the theater at the end: ''They hated it! Hated it!''" - Roger Ebert
Facts about the film:
- Looked upon as Peckinpah's most "surreal" and "nihilistic" film, Bring Me the Head of Alfredo Garcia was almost not released because United Artists wavered over the rating it received due to its violent content, claiming it would not be commercially viable - According to Senses of Cinema
- The main actor, Warren Oates, modelled his performance as the drunken bar-room pianist on Sam Peckinpah himself
Sam Peckinpah
A monster?
"Anybody who goes on the Peckinpah trail will come back with the same confused story. Sam Peckinpah, who died 25 years ago (in December 1984) and whose career is celebrated with a season at BFI Southbank this month, was a monster." - The Independent (Jan 2009)
FACTS
- American Filmmaker born in 1925, died in 1984
- Achieved iconic status following the release of his 1969 Western epic The Wild Bunch
- He became one of the major filmmakers of the 1970s, with his innovative and explicit depiction of action and violence, as well as his revisionist approach to the Western genre
- His life was marked by years of alcohol and drug abuse
- Some of his other films include: The Ballad of Cable Hogue (1970), Straw Dogs (1971), Junior Bonner (1972), The Gateway (1972), Pat Garrett & Billy the Kid (1973)
Special screening!!
This is a beautiful new remaster of the film on 35mm. Don't miss out on the chance to see this film in the highest quality, this is a very rare opportunity!!
The new copy on 35 mm has been touring round the UK, and we are very proud to be showing it tonight.
4/£3